Tips For Working With A Wedding Florist
Tip #1: Fill out the wedding inquiry form completely...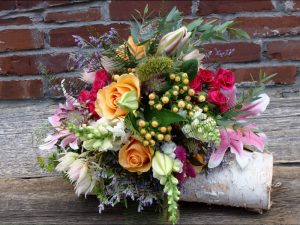 Fill out the wedding inquiry form completely, to the best of your ability, and submit it as the first step. The more information you provide upfront, the less expensive your florals may be. As with any professional, designing beautiful florals takes the florist's time and energy. If a consultation appointment is required or there is need for much communication to clarify what you desire and what is possible, additional fees are usually applicable. Peck's is no exception.
Tip #2: Be familiar with the florist's style...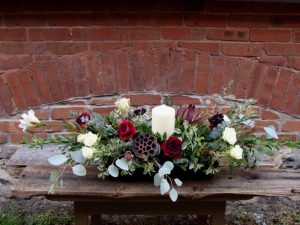 Be familiar with the florist's style and designs. For many florists, their work is their art. While they take into consideration important details, like a couple's color and flower preferences, remember that you are hiring them to do what they do best: creating unique designs with their professionally-developed artistic eye. Florists often will not attempt to replicate another florist's work. That being said…
Tip #3: Look at images online and in magazines...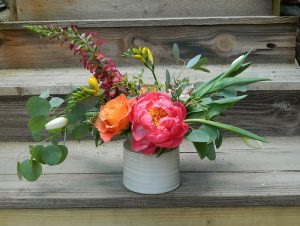 Yes, by all means look at images online and in magazines, to get a feel for what you like! You will notice a range of styles, colors, and flower types that appeal to different tastes. Find what you like, and then research florist's styles in your area who reflect the essence of your preferences. Again, keep in mind that they may not be willing to copy what you see, but would create their own work inspired by that style. Be familiar with your florist's work, so you know what to expect.
Tip #4: Have a sense of your flower budget...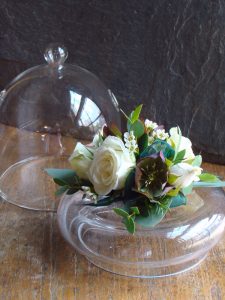 Have a sense of your flower budget and be realistic. According to the popular site Wedding Wire, "the average cost of wedding flowers in the U.S. is around $1400, with most couples spending between $700 and $2500." Flower costs vary, depending on type, time of year, location of florist, and availability. Luxury flowers like garden roses, peonies, proteas, and lilies are generally going to cost far more than standard roses, sunflowers, and ranunculus, for example. Some flowers, like lilacs and peonies, may only be available at certain times of year. Greens also cost money, and are often required in a bouquet, to give the bouquet structure and texture.
While Pinterest can be a really fun and inspiring place to sort out what your own style is, keep in mind that many of the images there are styled photo shoots, and that the bouquets in reality would cost hundreds of dollars — prices that are unrealistic for the majority of couples! Shorter, compact arrangements don't change that price either, as flowers are priced per stem, not by the length of their stem.
Tip #5: Plan ahead, you can never have enough time...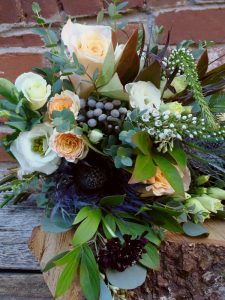 Please remember that florists are often very busy and need time to help you design your wedding florals; time that is relaxed enough where they can draw on their creativity and expertise. They may have other weddings they are working on, every day orders to fill, or might be swamped with holiday orders. That doesn't necessarily mean they can't make time for you, but expecting them to discuss wedding flowers with you when you spontaneously pop in or during busy holidays like Valentine's Day or Mother's Day is unrealistic.
Have a clear understanding of what your colors/themes and numbers are, and contact them well enough in advance for them to have time to review and consider your inquiry, time to create a quote, time to communicate with you, and time to order and prepare your flowers. Florists often need at least three weeks' notice just to order the flowers, securing them for your special day. If a consultation is needed, make an appointment with the florist. (Note that there could be a charge for the time for consultation). Most florists book a limited number of weddings per week/weekend, so consider securing your date with them as soon as possible.
Tip #6: Be aware of the money and work that goes into designing florals...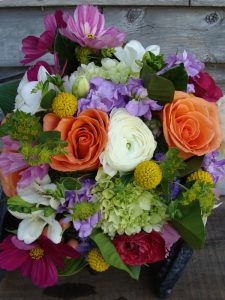 Know that a lot of work and money goes into designing wedding florals. Florists receive their flower and foliage deliveries or hand pick botanicals and then spend time themselves or money on employees to "process" them, removing unattractive leaves and other blemishes, giving each stem a fresh cut, and hydrating each in a special solution that extends their life. The flowers are cleaned up, hydrated, organized, and sometimes cut a second time before they even become part of your bouquet.
There is care expertise involved, with sometimes specific flowers' needs. Add in design expertise and the time it takes to execute that design, and the labor to pack the designs for traveling to the wedding site, and cooler storage space beforehand. The price of your wedding florals takes all of these things, in addition to the costs of the botanicals themselves, into consideration. Delivery and set-up fees are in addition to these, as those are extra services requiring more time, labor, and resources.